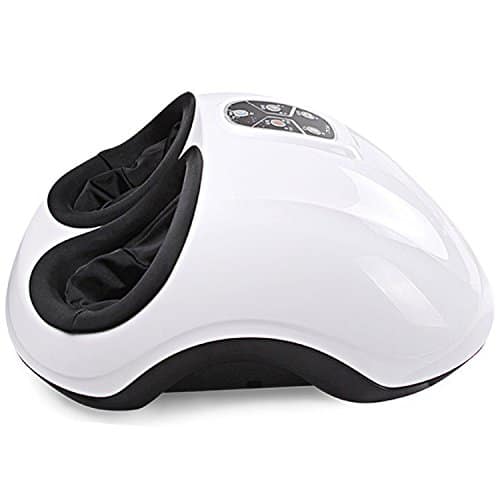 When it comes to aesthetic design, buyers in the market for a new foot massager need not look further than the sleek and stylish 3Q MG-F18 Foot Massager. This foot massager allows the user to have their feet fully enclosed as they get worked over with an excellent massage. This stylish, shiatsu-style massager looks more like a product designed by Apple than by a company that treats your feat, with its white and aerodynamic design. (This device is also available in an orange-red color)
However, most users shouldn't be too concerned with the appearance of their massager unless it is going to be sitting out often in their home. What users should be more concerned with are the capabilities and features of their massager. Below we explore the offerings of this foot massager.
Who is this massager for?
This massager is a great device for anyone that is looking for a way to relax in the comfort of their own home. It's truly an at home tool that can be used by really anyone. However, those that are on their feet for long periods of time or do a lot of walking throughout the day would especially benefit from it's capabilities. Women who wear heels often and get a lot of built up stress in their feet would certainly appreciate a massage from the MG-F18.
Additionally, if you are someone that regularly goes to the spa to visit with a foot masseuse, this is a cost effective replacement. While nothing can replace the touch of a professional massage therapist's hands, a high-quality foot massager can certainly compete – especially in terms of convenience and price!
What Features Does the 3Q MGF18 Offer?
The massager offers the capability to utilize pre-programmed massage functions or to manually select the type of massage you receive.
Inside the massage device, there is a two-point system, which targets different portions of the feet. It consists of a roller that is designed to massage the toes and upper foot, as well as a rear component that attacks the pressure points in the heel and the abductor digiti and hallucis muscles of the sole. 
This foot massager also comes with two primary modes that provide the user with the shiatsu type pressure you would expect from a quality device and a kneading system of massage. Each is fairly comfortable, but if a deep-tissue experience is what you are seeking, then the shiatsu-style will work best. In addition to the shiatsu and kneading modes, the MG-F18 also includes a three-setting air pressure massage function, which is great for helping improve blood flow and circulation in your feet. Lastly, the device also features a heating function, which is a nice added feature to utilize after a long day or during the cold winter months.
For those that are seeking a foot massager they can use on a daily basis, the MG-F18 allows you to select from a variety of preset patterns that are stored within the massager. This can be very convenient when you want to vary the massage type you are getting each day or if you prefer to have the same massage daily.
Another added feature of this foot massager is the 15-minute, auto-shut-off feature. If you happen to be using your foot massager while being preoccupied with something else (or perhaps happen to fall asleep), the foot massager will automatically turn off. In most cases, you don't want to overdo your foot massages, so this timer is very helpful in preventing you from overworking tender areas of the feet.
Lastly, one of the great benefits of this foot massager is that it is a remote-enabled product; you can adjust the mode, the heating, and the air pressure level with the included remote control. This is a great added benefit that, while minimal, does improve the user experience.
What is it Missing?
While the 3Q MG-F18 is certainly a great massager, there are a few drawbacks to this device.
The massage heads only move in one direction. This single-sided movement means that the users do not get a chance of experiencing the pleasure of massage heads moving in varying directions. This feature is offered by some other products on the market.
A popular comment from Amazon reviewers relates to the heat function on the massager. Several users have noted that the device does not have a satisfactory heat adjustment feature. While it does have two levels of infrared heating temperatures to warm your feet, many have suggested it is too lukewarm, even when it is on it's highest setting. There is no capability to change or adjust the heat level beyond it's factory settings.
When it comes to usability, one of the biggest drawbacks of this product is that it's only rated for feet under size 11. So, if you have somewhat larger feet, this may not be the product for you. Several Amazon reviewers report that even though it is rated for a size 11, even at that foot size it still doesn't full massage the heel area of the foot. However, if you have a foot size that is smaller than a size 11, this is a fantastic device that can provide a massage to your entire foot.
How Portable is the 3Q MG-F18 Foot Massager?
In terms of portability, this is a relatively small foot massager. Measuring in at 18 inches x 13 inches x 9 inches, it can easily be stored under a bed, in a closet, or under a bathroom sink.
This is also a lightweight massager that is easy to move around and use in varying rooms of your home.
How Do You Clean The 3Q MG-F18?
The inner lining of the 3Q MG-F18 Foot Massager is a cloth cover that you can simply unzip and toss into the wash, which makes cleaning the most frequently touched part of this massager very easy and allows for a very hygienic experience. This is also a great feature if you are sharing the massager with other people in your household – which it will be hard to keep this relaxing tool away from anyone!
Conclusion
This massager is a great option and it's in a relatively affordable price range when compared to other foot massager models on the market. It is a quality device that has a good amount of variable features and a sturdy and durable design.
Whether you are in the market for a foot massager for a medical need or if you are simply looking for a way to relax at the end of the day, the 3Q MG-F18 Foot Massager is a great option as it is affordable, convenient and gets the job done anywhere you put it to use!
Summary
Reviewer
Review Date
Reviewed Item
Author Rating